The AC1800 is one mean machine
Every Cattani Australasia dental compressor is important and treated as such, but there's always a buzz when one of our bigger models – the AC1800 is our second largest off-the-shelf unit – is prepared for delivery. Here, Andrew Bastiampillai goes through some last-minute checks.
If you're planning a large dental practice you need some serious air power, and that's where the AC1800 comes in. Designed to serve up to 24 chairs, it's an imposing beast, with those three six-cylinder power heads sitting on top of a 300-litre pressure vessel.
In technical compressor language, the specs are impressive: 3 x 3-phase, 400 volt, six-cylinder power heads, outputting a total of 9.75kW and drawing up to 22 amps. Maximum air flow is 1428 NL/min at 5 bar.
Congratulations to the lucky recipient of this excellent and vital piece of dental equipment, and welcome to the Cattani family.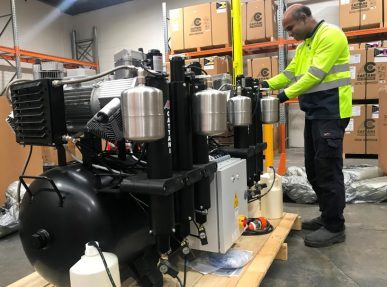 ---