Cattani characters: Abdul Hamed
Family man, giver, poet found his home at Cattani
Abdul Hamed, the quietly spoken, easy-going but hard-working king of the Cattani warehouse, should really be with some other company, using his knowledge as a food scientist, but he stayed with us because his family became Cattani family.
Abdul joined Cattani in early 2007, immediately after migrating from Egypt, when he was given a temporary job as a store person. He was a young man in a hurry, having just eight months to raise enough money to set up a home and pay for the wedding to his bride-to-be, Amal. Cattani was meant to be a stepping-stone, an opportunity for work experience, and accordingly after just two months he left to join a company more in line with his qualifications. But those two months had made a strong impression on him, especially the Cattani culture and the generous support of Cattani's owners, the Clark family. So when Cattani contacted him three months later, asking if he was interested in coming back permanently, Abdul didn't hesitate – and he has been with us ever since, eventually becoming Warehouse Supervisor three years ago.
"The Clark family have been very caring and warm, and that is reflected through all of the employees," says Abdul. "It is a very good working environment, and I decided it wasn't worth the risk of searching for a food science job then finding it wasn't the same good environment."
Abdul's main role is management of the warehouse, with his greatest responsibility being simply to ensure that customers get the right products on time – not as easy as it sounds. In a relatively small company like Cattani though, people wear a number of hats, and these days Abdul wears many. As well as a degree in food science and a diploma in political science, he has a diploma in international transport and logistics – all gained in Cairo, so he was an obvious person to take charge of stock control and movement, strictly applying Cattani's systems and policies to facilitate stock movement in Australia, New Zealand and, occasionally, to Italy. And besides all that, he is effectively responsible for our on-site safety as our fire warden, first aid officer and occupational health and safety officer.
Abdul's home until he was 18 was a small town in Eritrea, in north-east Africa. He excelled at school, which is not surprising given that his father was a teacher well known throughout the country as founder of a number of successful schools. Abdul took a strong interest in student politics and became president of the Eritrea Students Union. After completing high school he won a scholarship to study in Cairo, where he stayed for the next 10 years. During that time he maintained an interest in politics and became active as a volunteer worker for the United Nations and the African Union of Students, heading the Egyptian organisation. He was also a keen poet, and led the Egyptian branch of the African Asian Writers Union.
Abdul continues his voluntary work in Melbourne, helping recent Eritrean migrants settle into Australian life and, at weekends, teaching children Arabic and Tigrinya, Eritrea's main language, as well as giving lessons in Australian customs and manners. "It is important that our people keep their Eritrean culture alive, but it is also very important that they integrate, so we help with that." He also advises compatriots in his homeland, but only from a distance. Sadly, when he returns to Africa to visit family and friends, they must rendezvous in neighbouring countries because Eritrea is too dangerous for him and his Melbourne family, being a military dictatorship with one of the worst human rights records in the world.
The safety and security that Australia offers is never taken for granted, and Abdul can think of no better country for him, Amal and their three children. "We are very lucky to be here in Australia."
But while Abdul may consider himself lucky, we are the lucky ones to have this kind and gentle man in our midst.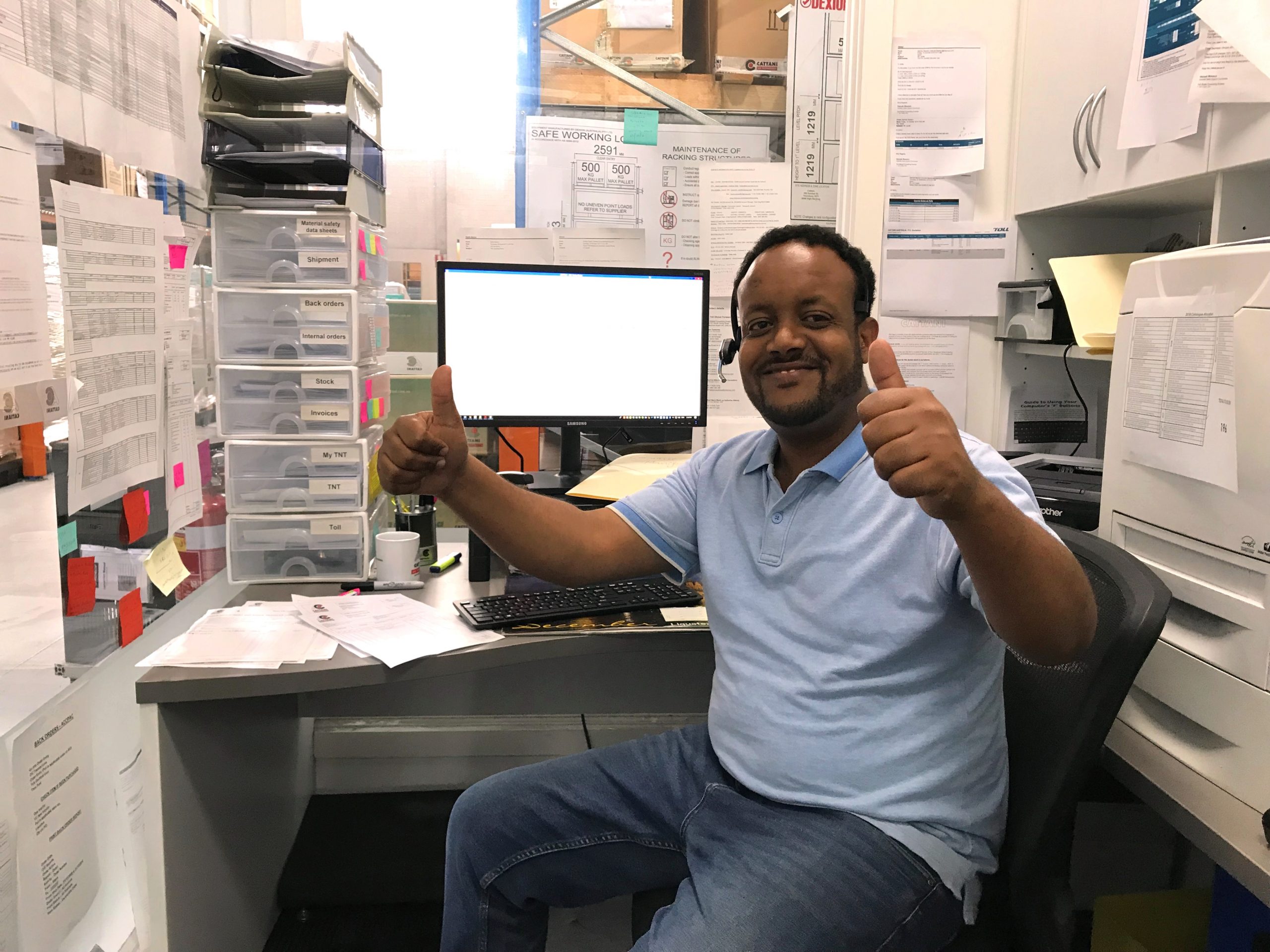 Australia
Home to brilliant humanity
Where pride grows in fertile ground
A miracle of hope and possibility
Your mix of people is like a bouquet of bright flowers
Your generosity rushes out like a fountain
No poet can describe your love
No song can express your beauty
No song can express your beauty
Your love entered my soul before I knew
It grips the core of my being like the teeth of an animal
I am a prisoner in the kingdom of love
I seek help for this ailment
The doctors say there is no cure
But the treatment is to love and embrace
Australia
---