7-Year Warranty, Including Parts, and Labour on All Dental Compressors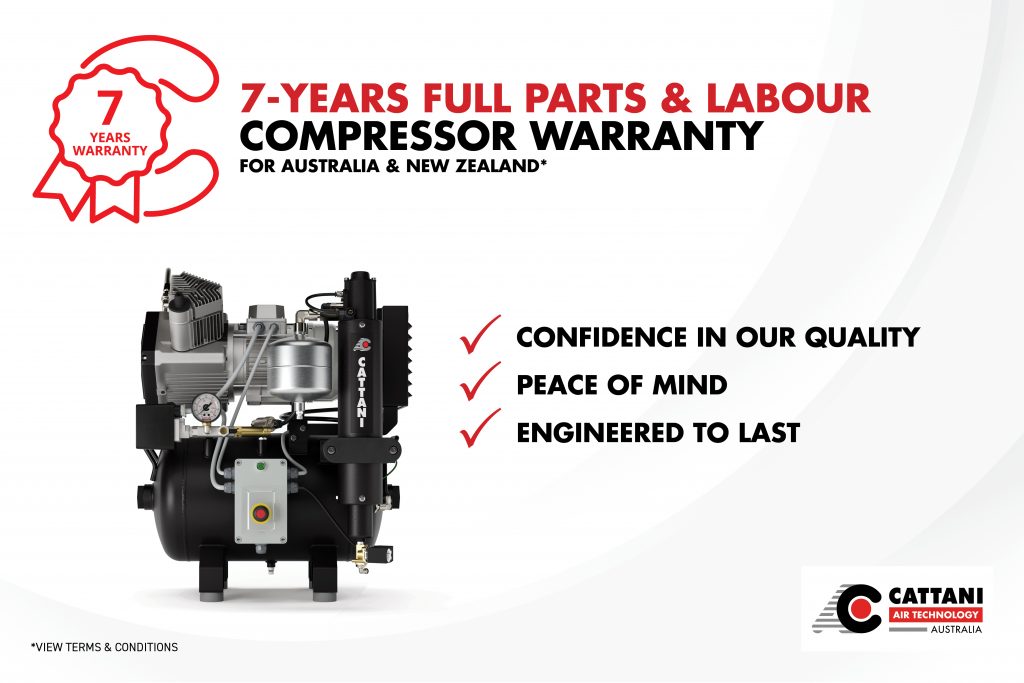 7-Year Warranty, Including Parts and Labour on All Dental Compressors
Cattani users represent dental professionals who trust our promise of quality, performance, precision, and reliability. We recognise the importance of this decision and ensure its enduring satisfaction through our signature benefit - our market-leading 7-year warranty on all compressors, including all parts and labour. This warranty, a hallmark of Cattani's reliability, firmly underpins the trust invested in our brand.
Our generous 7-year warranty extends from the date of purchase of products from:
AC Dental Air Compressor Range
CAD/CAM Compressor Range
HEPA H14 filter standard in all AC Compressors
Our antibacterial HEPA H14 filter (High-Efficiency Particulate Air), comes standard with all dental compressors and helps deliver quality results by removing 99.975% of solid and biological particles down to 0.3 micron.
Cattani reliability in our compressors come from:
7-year warranty on all dental compressors.
HEPA H14 filter in accordance with EN and ISO standards.
Removing 99.975% of particles down to 0.3 micron.
Dual-coated compressor tank lining with a food-grade resin and Biocote® silver ion for antimicrobial protection.
Consistent supply of dry compressed air with no interruptions.
More than 50 Years in Premium Air Technology
With more than 50 years of innovative contributions to the global dental industry, we provide expertise and specialisation in air technology. It's not just equipment, it's an investment. With a 7-year full parts and labour warranty on all our compressors, we'll take the chance, so you don't have to.
*To learn more about our warranty terms and conditions, download our Warranty Statement.
---