DocuApp – Cattani knowledge at your fingertips
If you're a technician or a salesperson working with Cattani equipment and you're not using DocuApp, you should check it out – it has real benefits.
DocuApp, Cattani's first smartphone app, is an all-in-one treasure trove of information on:
- SMART suction
- Compressors
- Magnolia consumables
- Accessories
- Spare parts, including service kits
So what are these benefits?
- DocuApp instantly answers a lot of product questions
- Like most apps, it's incredibly convenient – a time-saver
- It's easy to use
- And it just might help you out in a tight spot
And how does it work?
If the suction unit or compressor (clinical or CAD/CAM) is right in front of you, the quickest way to find information about it is to scan the product barcode with your phone. That takes you to a page with all the related resources e.g. manuals, exploded diagrams, brochures and certificates of conformity. This way it doesn't even matter if you don't know at that moment the exact model you're looking at.
In fact there are multiple search options, allowing you to also search by typing in the product code, model name or serial number.
So if, for example, you have misplaced the AC200 manual or need technical information to relay to a customer immediately, DocuApp is designed to look after you: up comes a CAD drawing, user manual, brochure and certificate. DocuApp has been built by the manufacturer, Cattani Italy, so you can rely completely on the information provided.
DocuApp is available for IOS and Android smartphones. So download it now.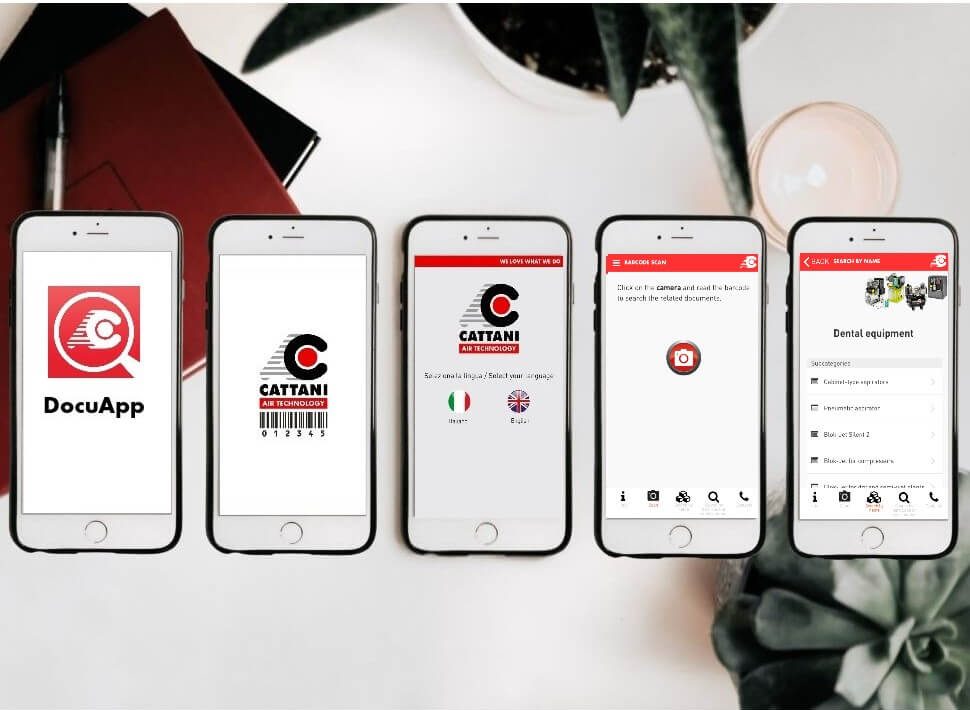 ---