Description
Compressors
Smart Vento AC400 Tandem Turbo Smart A With Amalgam Retention
Product Code: SMART Vento AC300 & Turbo SMART B with Amalgam Retention
The SMART suction system is the most powerful semi wet suction system of its kind. Its also the smartest. Its inverter control senses changes in how the suction is being used and automatically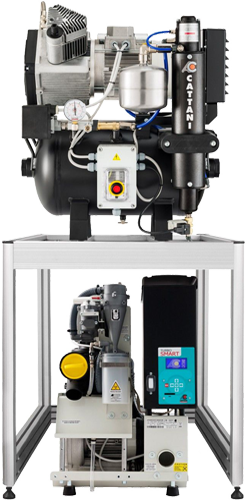 SERVICES
ENERGY SAVING DESIGN
Inverter control optimises performance and effciency - It's what makes our SMART Suction, SMART.
The principal is simple: the inverter is an electronic control that
can vary the speed , and therefore the output ofthe suction mo-
tor . It adjusts the power used to suit the actual requirements of
the clinic – no more , no less!
TECHNICAL DATA
| | |
| --- | --- |
| RECOMMENDED FOR | |
| HEIGHT mm | 1570 |
| WIDTH mm | 695 |
| DEPTH mm | 490 |
The SMART suction system is the most powerful semi wet suction system of its kind. Its also the smartest. Its inverter control senses changes in how the suction is being used and automatically