Description
Compressors
Smart Vento AC600 Turbo SMART B with Amalgam Retention
Vento is the ultimate space saver, halving the equipment footprint by stacking the compressor on top of the suction unit. *Chair capacity configurations can be customised on request.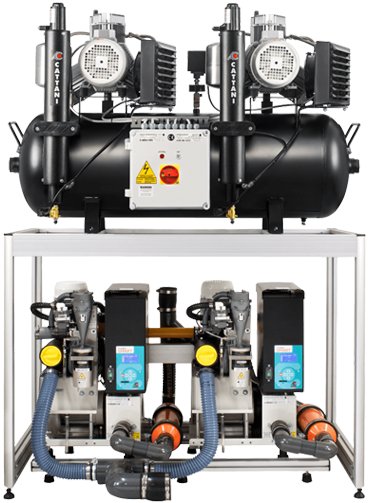 PROBLEM SOLVED
THE ULTIMATE SPACE SAVER
A special frame makes for the most compact plant room configuration.
Space is valuable and in many practices strictly limited. Cattani understands that, so Vento is the perfect solution for practices in shopping centres, for example, where space is tight and a dedicated plant room is a luxury.


TECHNICAL DATA
| | |
| --- | --- |
| RECOMMENDED FOR | up to 8 surgeries |
| HEIGHT MM | 1840 |
| WIDTH MM | 1280 |
| DEPTH MM | 600 |
Magnolia Antifoaming Disinfectant tablets reduce foaming in suction systems created by blood and mucus, as well as releasing a disinfectant that dissolves throughout the day.